Goldcard INFINITY Smart Gas Meter — Unlimited Connection, Unlimited Extension
Over the past decade, cutting-edge IoT (Internet of Things) technologies like GPRS, NB-IoT, LoRaWAN, Sigfox, etc. have been applied in the gas industry, by virtue of its low power consumption, wide network coverage, infinite possibilities, etc. Especially, from 2020, COVID-19 brought huge challenges to gas companies, IoT smart gas based contactless meter reading, remote monitoring, electronic billing and online payment have received intensive attention from many gas companies.
While limited by the iteration development and availability of network infrastructure, choosing the most proper communication technology for the smart gas meter has been the first headache in operation and management decision making.
GPRS has the most mature applications with over 10 million installations since 2013, but facing retirement risk along with fast development of 5G and NB-IoT lately, NB-IoT smart gas meters have been largely deployed in China recently, with more than 10 million applications shortly in 3 years, thanks to strong support from government on Network upgrading; but for countries that NB-IoT has not been greatly distributed yet, Sigfox could be a choice if Sigfox network operators are in place; some may not be happy with the dependence on network operators, meanwhile with robust IT and network server capabilities, then private band network LoRaWAN was selected with more flexibility to build their own network and server system for smart meters, and other applications, like smart fire protection, smart safety supervision, smart water, smart agriculture, smart municipal administration, etc.; for those who have to make compromise on smart functions due to budgetary consideration, NFC prepayment solution was also welcome to achieve contactless services, but still reserve the possibility of upgrading to IoT smart meters in the future.
As an experienced smart gas meter manufacturer with over 20 years engagement in the industry, Goldcard Smart Group has seen all these pain points that come along with the era's demand. Upon its strong R&D knowhow, rich industrial understanding and experience accumulation, the INFINITY series modular smart gas meter was developed to perfectly relief all the abovementioned challenges, meanwhile bring in the cutting-edge but maturely practiced smart functions, thus support high-efficiency management and operation, realize high value return, high safety, high satisfactory and low gas loss.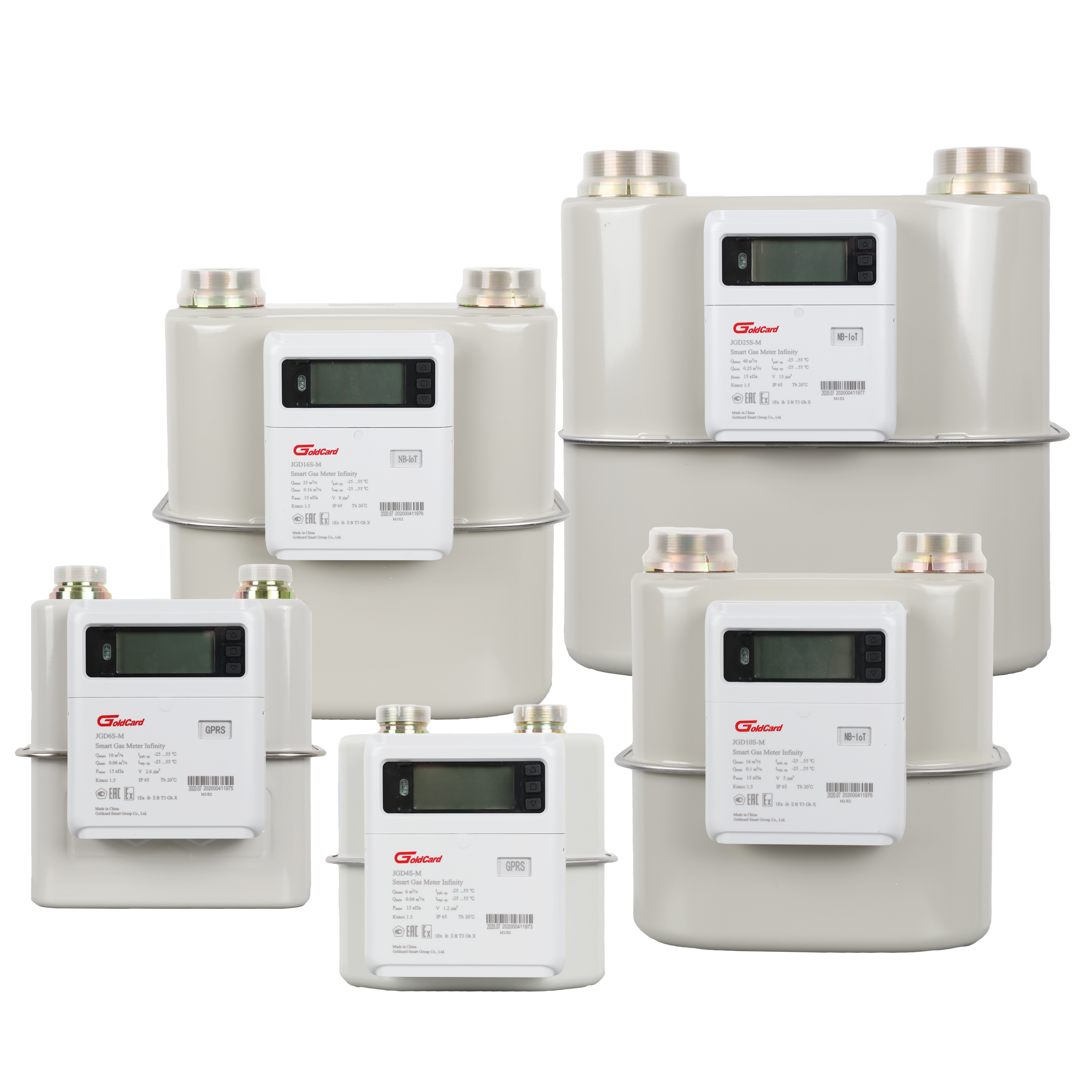 INFINITY is a series of smart gas meters designed following EU standards and referring to large scale smart meter application experiences in Asia-Pacific countries. It supports multi-type communication technologies: GPRS, NB-IoT, LoRaWAN, Sigfox, etc., and with communication modules replaceable onsite without changing basic meter or upgrading meter firmware during the whole lifetime of the meter.
The modular design is a good choice for countries where the IoT network infrastructure development not yet settled, it also improves meter adaptability to future communication technologies. The communication module can be easily upgraded on site, without changing the meter, which guarantees ROI for meter assets, and assists in global utility digital transformation.
JGDxS-M smart meters support different flow rates: G1.6/2.5/4/6/10/16/25, applicable for measurement in domestic or industrial and commercial occasions. It incorporates a mechanical diaphragm gas volume metering device with an electronic smart controller to realize accurate metering, data processing, as well as valve control with system.
Key features of the INFINITY series:

● Supports multi-type communication protocols, module hot-plug on site without firmware upgrade.
● All communications are encrypted, ensure data security, integrity and traceability.
● Powerful data computing capability. Large memory keeps storage of the latest 1 year's gas consumption data and 200 event logs.
● Low power consumption design, battery pack supports 10 years under normal operation.
● Built-in high accuracy temperature sensor for temperature compensation.
● Measurement resolution complying with EN1359, supporting real time monitoring of extremely low flows and reverse flows.
● Meter and system event logs, alarms, and valve control mechanisms, to realize comprehensive security and business management.
● It can be integrated with the gas company MDM system, billing system, online payment system, etc. through IoT data platform, allowing digital gas applications, including prepayment, post-payment, tiered pricing, remote pricing, real time billing, electronic billing, remote payment, etc.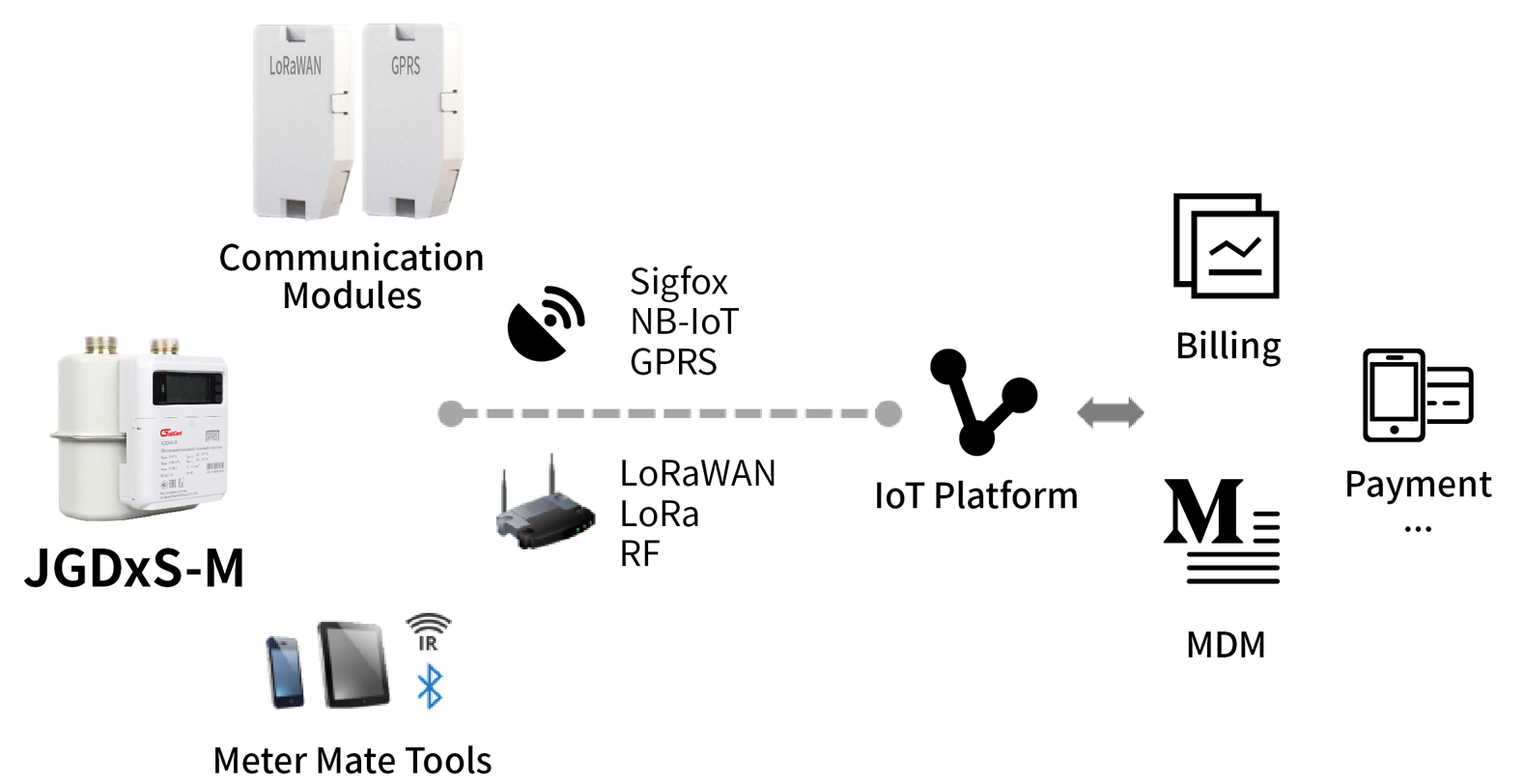 INFINITY SMART GAS SOLUTION
Following the general version INFINITY IoT gas meters, we have developed the INFINITY NFC+ version (Near Field Communication, referred to as NFC), it complies with the STS international prepaid standard, adopts the latest NFC smart chip to realize two-way communication, with internal valve to achieve prepayment and safe gas supply and using services. INFINITY NFC+ follows the worldwide unique STS prepayment standard, which is open and secure, reducing the gas companies' reliance on meter providers, meanwhile greatly facilitating the third-party sales network expansion. What more, it reserves the INFINITY IoT communication module interface, through which the NFC gas meter can be upgraded to IoT smart meter in the future by just plugging in a variety of IoT communication modules on demand, therefore realizing cost-effective transformation of more intelligent functions such as remote monitoring, remote valve controlling and post-payment billing services.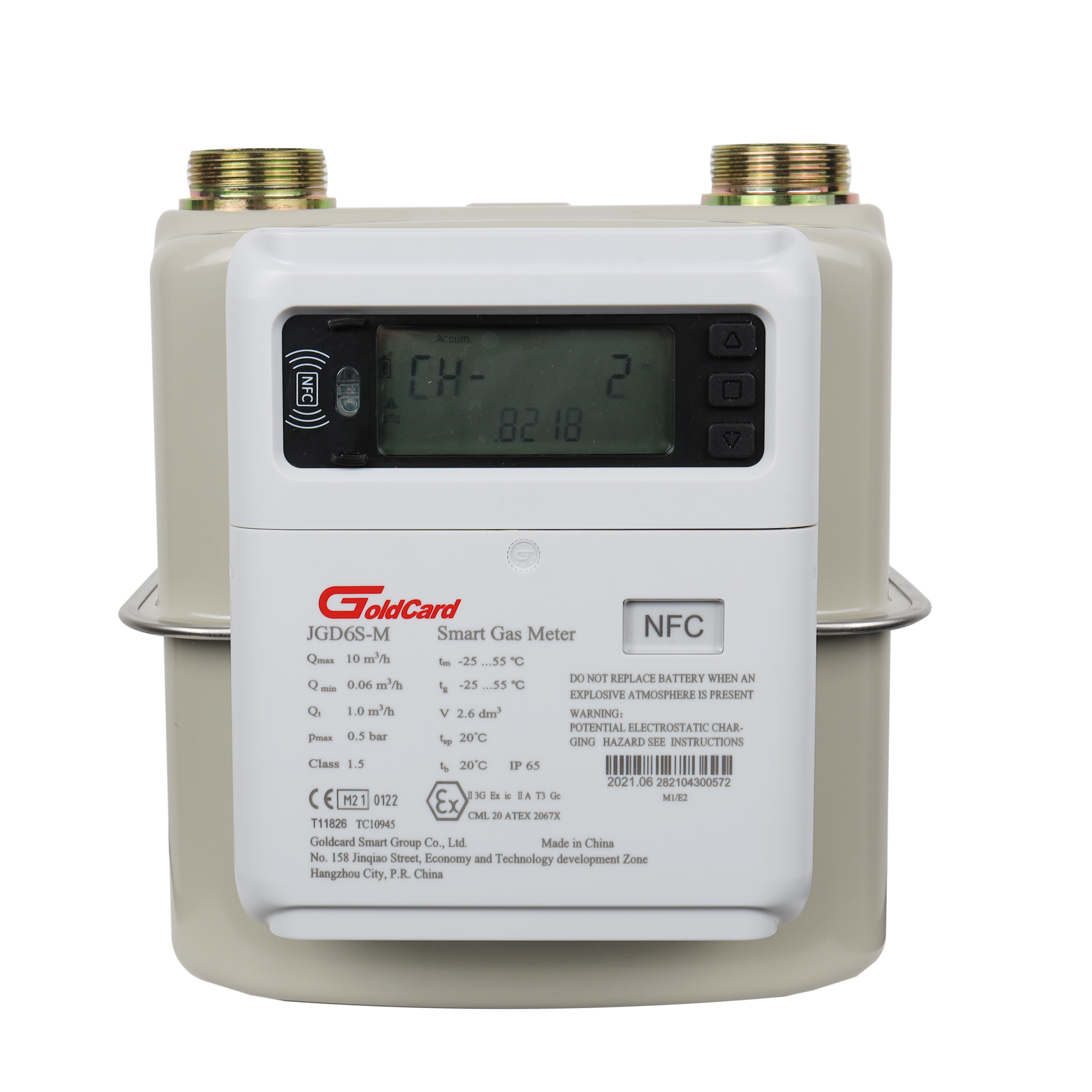 INFINITY NFC+
Under the INFINITY concept, there is also the Lite series retrofit IoT module, it can upgrade the onsite mechanical meters to communicating meters, therefore realize remote meter reading, reduce meter reading cost and management pressure. The modular metering sampling port design, and the modular communication module can support IoT upgrading of mechanical gas meters from different manufacturers, and with different selectable communication technologies, such as LoRa/LoRaWAN, Sigfox, NB-IoT, and others to be developed upon demand.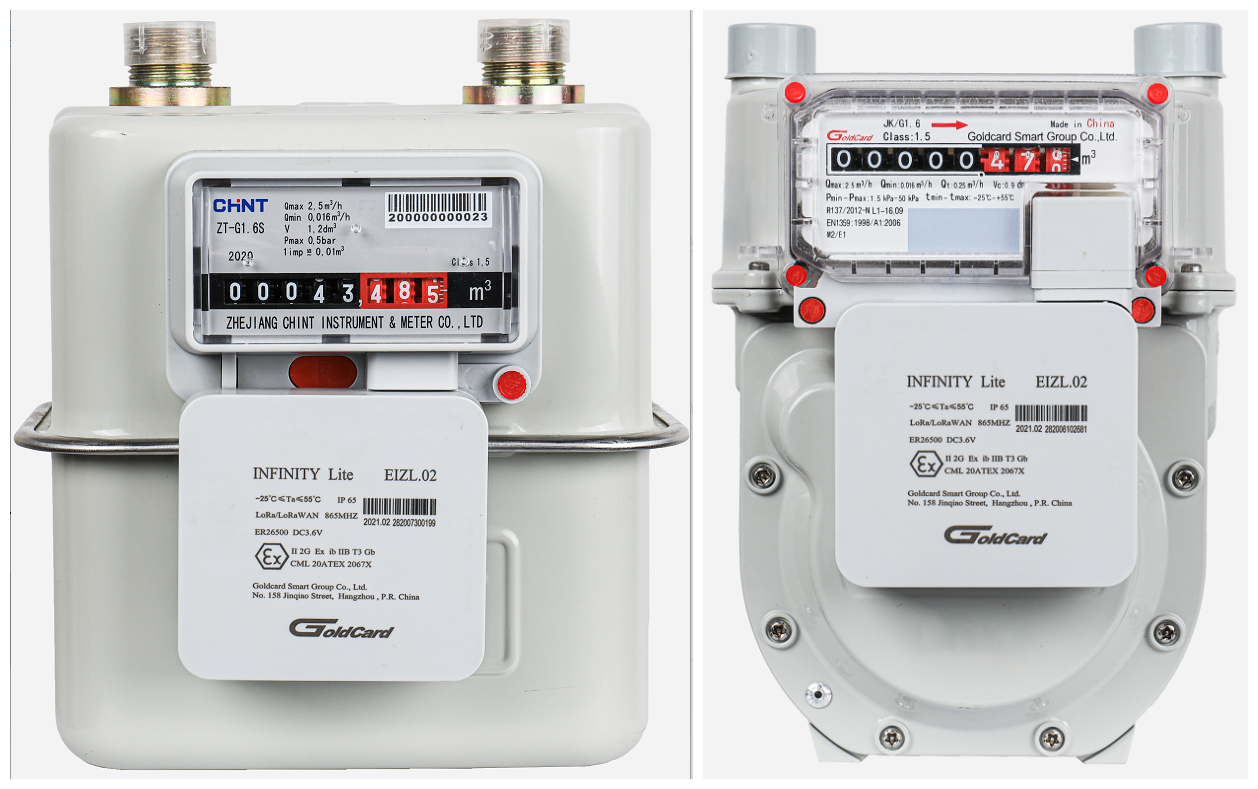 INFINITY LITE APPLICATIONDS

INFINITY LITE SMART GAS SOLUTION
About Goldcard
Goldcard Smart Group Co., Ltd. is one of the leading smart utility solution providers, with IoT products and services covering gas, water, smart home, etc. After over 24 years development, Goldcard has now achieved annual yield of over 11 million IoT devices.
Infinity is a series of smart gas meters designed following EU standards and referring to large scale smart meter application experiences in Asia-Pacific countries. The modular design highly improved meter adaptability to different future Internet of Things communication technologies, guarantees ROI of meter assets, assisting in global utility digital transformation.
Contact: Tina Zhou
Email: marketing@china-goldcard.com
Web.: http://www.china-goldcard.com/en.php
Add: No.158, Jinqiao Street, Qiantang Area, Hangzhou, China